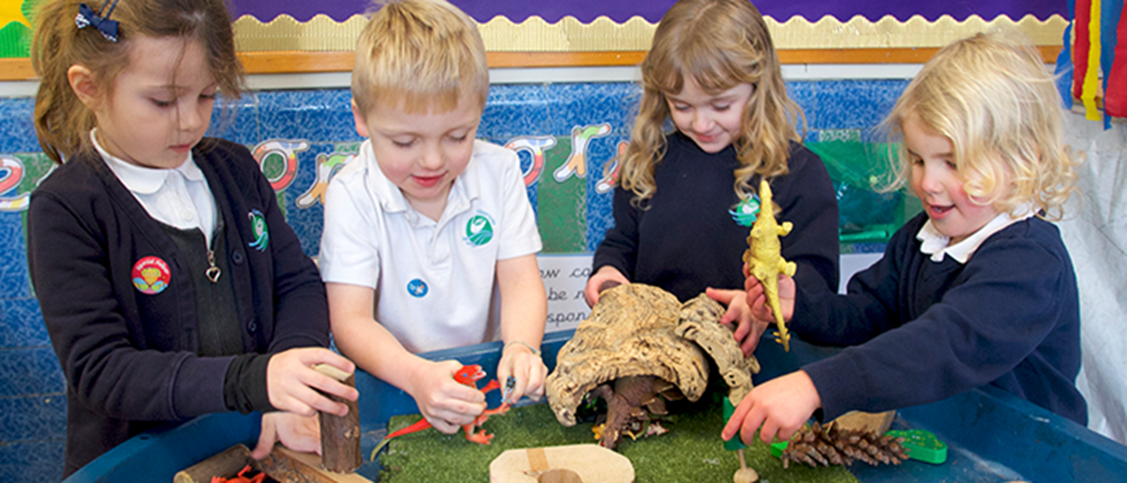 EYFS
Early Years Foundation Stage
Welcome to the Early Years Foundation curriculum page. Here you can find information about the curriculum being taught to your child whilst in this year group at Riverside Primary School. 
We aim to ensure that each and every child develops a lifelong love for learning where everyone is encouraged to develop and reach their potential whatever his or her ability. 
We have worked hard to create a curriculum that inspires, engages and excites all our children. The children are taught through a mixture of adult-led carpet sessions and activities and play, as part of our 'In The Moment Planning' approach to teaching and learning. Through this, the children can find about the world, about their friends and about themselves. Their learning is meaningful and relevant and they take the lead. It is hands-on, outdoors and (often!) messy and every day is just as fun and filled with learning as the day before.
This blend of learning allows us to deliver all the key areas of the curriculum in conjunction with the children's own interests, questions and lines of enquiry. We celebrate this with parents by sharing learning on Tapestry and inviting you in to join us for open events and stay and play sessions.
The Early Years Foundation Stage (EYFS) sets standards for the learning, development and care of your child from birth to 5 years old.
All schools and Ofsted-registered early years providers must follow the EYFS, including childminders, preschools, nurseries and school reception classes.
If you would like any further information please do not hesitate to contact your child's class teacher; we are always here to support.

Areas of Learning
Your child will mostly be taught through play.
The 7 areas of learning are:
Communication and language
Physical development
Personal, social and emotional development
Literacy
Mathematics
Understanding the world
Expressive arts and design

Assessments
Your child's progress will already have been reviewed when they were between 2 and 3 by an early years practitioner or health visitor.
Their class teacher will assess them at the beginning of the school year using the government's statutory reception baseline and end of the school year, using our classroom observation. It uses the early learning goals, which can be found in the early years framework. 

'What to Expect When' - A Parent's Guide
To help review your children's progress, the Department for Education has published a guide for parents on child development during the first 5 years. Parents are able to check their children's physical, social and language development against these milestones and learn how best to support them in their development. Please find the document below.