Secondary School
When your child is in Year 5 and/or Year 6, you'll begin to look at the exciting prospect of your child starting secondary school, and continuing their journey in education. When choosing a secondary school, it's important to consider their ethos, school culture, timetable, size and location. We've created this page to help you to consider which secondary school might be the best fit for you, and to begin to plan your child's next steps.

The Cedars Academy
The Cedars Academy is a 'Good' 11-19 school, based in Birstall, just a short journey away from Riverside Primary School. 
Like Riverside, the school is part of the Lionheart Educational Trust. This means that students from Riverside can expect to experience the same exacting standards of excellence, now through a 14-year-journey. Staff at The Cedars Academy already work regularly with students at Riverside, meaning that your child will likely see familiar, friendly faces in their transition to Year 7. 
The Cedars Academy has superb transition support in place for new students entering Year 7, designed to ensure that every individual begins secondary school feeling confident and safe. With a huge site and state-of-the-art facilities, including the Palmer Tomkinson Centre, which is a spectacular theatre with retractable tiered seating, magnificent open plan foyer, adjacent rehearsal rooms and a technical sound and lighting booth. As well as this they have an amphitheatre and a brand new all-weather 3G pitch coming soon students are always inspired by their surroundings when learning.  
At The Cedars Academy, we believe the cornerstones of aspiring to excellence are organisation, discipline and hard work. Our mission is for pupils, regardless of their backgrounds, to make outstanding progress. 
You can find out more about The Cedars Academy here.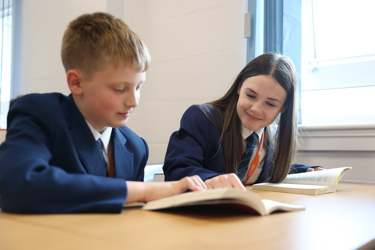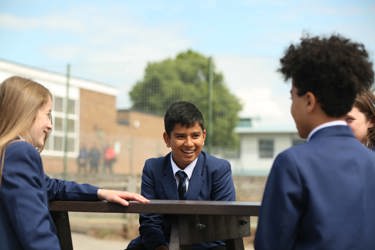 The Roundhill Academy
The Roundhill Academy is a 'Good' 11-16 secondary school, located in Thurmaston. 
The Roundhill Academy is a unique school with a single-minded commitment to serve every member of their community, with a purpose to prepare their young people to enter the world as confident, well rounded and highly educated individuals.   
The site is fully equipped with modern classrooms and first-class facilities, including a recently refurbished indoor heated swimming pool, 5 state of the art science labs and a performing arts department consisting of 2 drama studios and a music room.
You can find out more about The Roundhill Academy here.  

Rushey Mead
Rushey Mead Academy is a vibrant, "Outstanding" school which serves communities in the north of Leicester.  
Rushey Mead have a long and proud history of achieving outstanding outcomes for students in terms of attainment and progress, achieving consistently well above national averages on key performance measures.  
The grounds feature modern facilities and high-tech equipment, such as a creative arts department, gym and dance studio. 
The school day starts at 8:30am and finishes at 2:55pm, and operates a 2-week timetable.  
You can find out more about Rushey Mead here. 

Other options
The three schools listed above are the local schools in the catchment area of Birstall. However, if you wish to look at all secondary schools within Leicestershire find out more here.